I'm living here in slum areas somewhere in the philippines. It is along the river and the other side is cemetery. Our house is located at the top or roof of the museo in cemetery. I was born here in this slum area.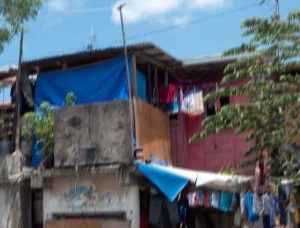 I was raised here by my parents. When I was 6 years old my parents sent us to our province because they prioritize their work instead of taking good care of us. Our grandparents are the one who took good care of us and they are the one standing as our parents. They never leave us, their always at our side.
When I was in grade 6 were having a very hard time. At that time my father has an illness and my mother has an illness too the worst is my mother is pregnant at that time and it is the month that the baby would come out. Were really having a very hard time.
We have to find money in order for us to buy medicines for my mother and father, milk for my brother, and also food for us to eat. That time the materials that supposed to be used in building my grandparents house was sold for us we have money and in order to survive. We experienced eating dried fish that are supposed to be thrown away on garbage.
So when I graduated elementary, I was sent here back in city in this slum areas to took good care of my ill father. I experienced here one day one eat and sometimes one day no eat. Our whole family moved back here eventhough my mother is still sick she still manage to took good care of my father. My father's illness got worst until he died. I was really sad at that time. Its almost Christmas at that time but we lose our father.
After one year and months my mother got married to another man and left us. It's hurt me most because she chooses that man between us her children.
I am living in this slum areas for 18 years. Our house is not big. It is just small but we are happy and contented for everything we have. Eventhought our house really needs to be fix because a lot of things in our house is destroyed sometimes when it is raining, we are also raining inside our house because the raindrops will come through the hole of our roof.